Reflecting on my various mental contortions around girls, and I've noticed in myself a definite attitude of acquisition.
When I'm single, I'm thinking about dating someone / 'being with' someone.
When I'm courting someone, I'm thinking in terms of doing things to make them attracted to me.
When I'm dating someone, I'm already thinking in terms of looking out for someone else. So I am clearly not satiated.
It got me wondering what it is I'm looking for, what it might take to be 'satiated,' and it became clear that I'm wanting 'something' from these women. But what it is is a bit unclear. It is some kind of mental state of peace, that I imagine they can bless me with. When I'm not in that mental state, I'm thinking that it must be I'm with the wrong woman, and set about seeking once again.
It reminded me of something I'd read previously about the 'normal' state of being (as opposed to enlightenment), which is that it is a state defined by desiring to acquire things. We desire to acquire food, we desire to acquire money and material objects, we desire to acquire acclaim, and we desire to acquire people. The idea is that upon 'collection,' that those things will give us peace. Of course it never works, because the mental state itself is designed for the desire for acquisition: with one thing acquired, the next thing takes its place, and we're feeling the exact way we were - just with a different object in mind.
In this book, this was contrasted with a permanent state of satiety, enlightenment: One understands that one is the God-head, understands that all this action is merely the smallest of cogs in an infinitely large spaceless & timeless plot, and that everything is going according to plan. Any one case of acquisition doesn't matter because it's all part of that larger plan. And that one has an especial understanding of the plan that others aren't aware of, and that it's essential that one goes about convincing others to save them as well.
I can clearly see how one would go toward this view.
I saw my desire for women as a hunger; I feel hungry, and will consume people in an attempt to sate my hunger. It's obvious that no one can sate me, because I want something from them that they cannot give me.
This gives me an altruistically driven reason to stop approaching these situations in the same way. I care for these people, actually I love them, and I don't want to be doing something harmful to them.
I started remembering Goya's famous painting of Saturn (Kronos) devouring one of his children, the new Olympians: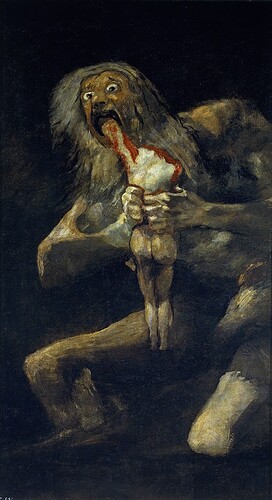 I am doing the same thing in attempting to acquire people, sapping them of their energy in hopes that it will make me feel alive.
I remembered the other side of the myth, which is that Gaia (earth goddess) and Rhea (mother goddess) conspired with Zeus to kill Kronos and set the olympians free.
I've since learned that Kronos was the embodiment of time, which means that Zeus was in effect putting an end to time… ringing any bells?
This is in concert with Kronos previously castrating his father, Uranus, the master of the Universe.
In other words, the two cases of patricical violence were in essence creating a condition of timelessness and spacelessness.
This reveals the mystical nature of the earliest of Greek myths - it was an oral metaphor to explain to early initiates how to become enlightened.
And of course, the enlightenment project still doesn't end the cycle of violence inherent in 'being.'
I made a drawing illustrating this moment: the young Zeus, now the supreme God, emerges from the bowels of his dead father, confronted with the void he now consists of.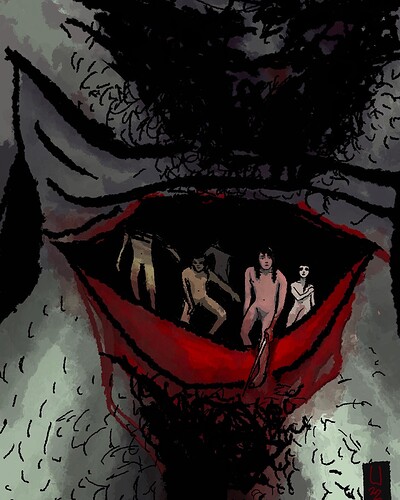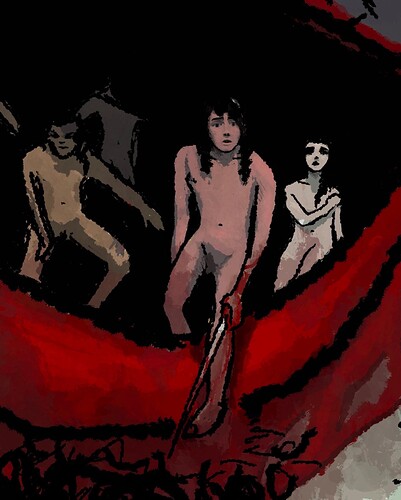 As for me, I'm determined to enjoy & appreciate, no matter my situation.